Why agile marketing?
"The basic idea of marketing is the consistent alignment of the entire company with the needs of the market" (Gabler Lexicon). Markets in particular are very volatile today and are constantly subject to new trends. This is exactly what modern marketing must respond to. Consumers are also now exposed to a huge flood of advertising messages. As a result, many customers no longer actually perceive advertising properly. Experts therefore call for new ways and methods for modern marketing.
But how does modern marketing define itself and how agile should my marketing be? In the following I would like to present two trends from the literature and try to interpret how agile marketing can help companies.
Marketing 3.0
Kotler et al. (2010) defined this new type of marketing with the slogan "From customer to human". To illustrate this development, they published the following table: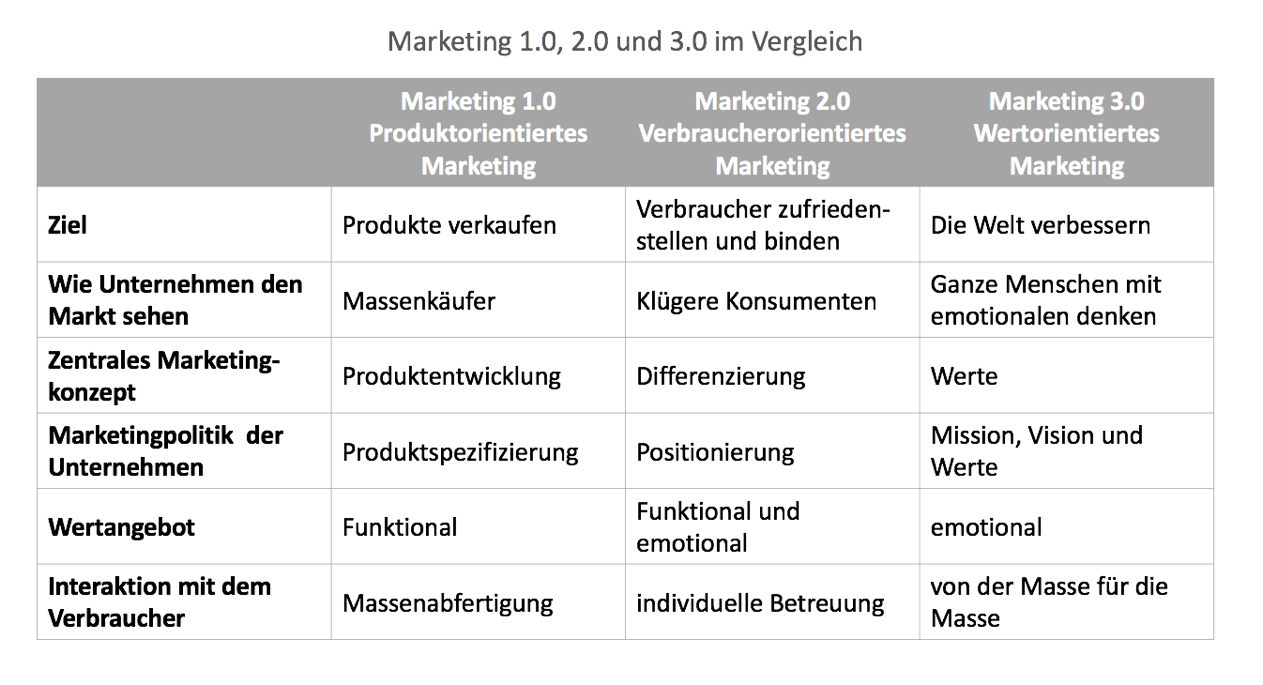 The table clearly shows where to go: the focus has shifted from the mere sale of products to "improving the world". Companies convey values and emotionally appeal to customers. The mere placement of products has been eclipsed by the constantly changing trends. We are therefore heading towards a holistic approach, in which the human being with his needs, values and goals is at the centre. But what does this look like in concrete terms and what is agile about it?
Content marketing as agile marketing?
Content marketing appears as a solution for this new type of marketing. Based on current research, this sounds logical. Why? The graphic above clearly shows that we are in an age of co-determination and cooperative marketing. Easy access to the Internet makes it easier, cheaper and faster to publish content. It also shows that people are more creative and that user-generated content is no longer a pure buzzword.
This shows that customers are looking for high-quality content and that the process of publishing has become much easier. Whether as an infographic, white paper or blog article, everything can be exciting for customers. Good content thus awakens an association with the market without product marketing. Especially in the B2B and consulting area, expertise and expertise can be perfectly presented with content marketing.
Push to Pull
Thus, a paradigm shift is taking place. Whereas we used to be bombarded with advertising, we are now getting them ourselves. You can already see it in this simple example: I want to buy a TV and look at Google for articles with the search term "Buy TV Tips". Such content is preserved for a long time, as it is viral and voluntarily shared by users. Good traffic figures are also possible over the years.
Establishing editorial processes
But how exactly can this be implemented in the B2B or B2C area? In the first interviews I found out that it is simply not enough to simply hire some journalists. Journalists are definitely important for the preparation of the content and the guarantee of quality. However, editorial processes are also important in the company. As part of the research project, I'm watching some companies that involve their employees to write common insights as white papers or articles and publish them in a blog.
Agility is a fundamental part of these editorial processes. Content should be permanently and iteratively improved. Understanding the ever-changing needs of the customer is an ongoing process of trial and error. Our article on TV sets has to be constantly adapted to new trends.
Tip: I'm happy to help you with marketing for your company
Examples of agile marketing
The blog NetPress shows 3 examples of how agile marketing can work. I shall summarise these briefly here, so that the academic statements become clearer.
Example one shows the Superbowl. It's the biscuit maker Oreo. As NetPress says: It is now the parade example of agile marketing. Within just eight minutes, Oreo had responded to the power outage during the Superbowl with an original and witty tweet, creating huge social media reach.
In the second example, a student came on a free dream trip. As the blog Netpress says: A student challenged the company with a bet. Her goal was to get a sponsored holiday trip from Neckermann if her posting gets more likes than Neckermann has fans on Facebook. Within five hours, the posting had already had 15,000 likes and after 14 hours the mark of 133,000 had been exceeded. A big reach and sympathy win – the bet was a topic in the media for days.
Example three is a software house called Matrix42. In small sprints, they selected topics for content marketing and analyzed trends. The goal was a just-in-time content delivery and distribution, in parallel with the Matrix42 product reviews, which take place correspondingly in a cycle of 4 to 6 weeks. After each sprint, the best items were identified and built on them. I also work in this blog, as far as my research can allow.
Genderhinweis: Ich habe zur leichteren Lesbarkeit die männliche Form verwendet. Sofern keine explizite Unterscheidung getroffen wird, sind daher stets sowohl Frauen, Diverse als auch Männer sowie Menschen jeder Herkunft und Nation gemeint.
Lesen Sie mehr dazu.
Falls es noch Fragen gibt, können Sie mich gerne anrufen. Hierzu einfach im Buchungssystem nach einen freien Termin schauen. Ich nehme mir jeden Monat einige Stunden Zeit um mit Lesern zu interagieren.
Helfen Sie meinem Blog, vernetzen Sie sich oder arbeiten Sie mit mir
Sie haben eigene, interessante Gedanken rund um die Themenwelt des Blogs und möchten diese in einem Gastartikel auf meinem Blog teilen? – Aber gerne! Sie können dadurch Kunden und Fachkräfte ansprechen.



Ich suche aktuell außerdem Werbepartner für Bannerwerbung für meinen Blog. Sollte es für Sie spannend sein Fachkräfte oder Kunden auf Ihre Seite zu leiten, dann bekommen Sie mehr Informationen hier.
Vernetzen Sie sich in jedem Fall auf
Xing
oder
LinkedIn
oder kontaktieren Sie mich direkt für einen Austausch, wenn Sie gleich mit mir ins Gespräch kommen wollen. Werfen Sie auch einen Blick in meine
Buchvorschläge zur Digitalisierung
, vielleicht wollen Sie mir auch ein Buch empfehlen?
Ich arbeite gerne mit Unternehmen zusammen. Sie können mich ebenfalls gerne bezüglich folgender Punkte anfragen:
Verwendete Quellen anzeigen
Kotler, P., Kartajaya, H., & Setiawan, I. (2010). Marketing 3.0: The new dimension of marketing: From customer to human. Frankfurt am Main: Campus Verlag.