Logistics "includes all tasks for integrated planning, coordination, implementation and control of goods flows as well as goods-related information from the sinks to the consumption sinks" (Gabler Wirtschaftslexikon). Furthermore, the task of logistics is to provide the right goods at the right time in the right quantity in the right place.
Logistics is thus characterised by a high degree of dynamism. Often the definition of which goods must actually be available at what location and at what time cannot be clarified. Changeability should therefore seem to be a fundamental element of logistics. For this reason, a rethinking of agile logistics has been taking place recently.
Agile logistics or lean?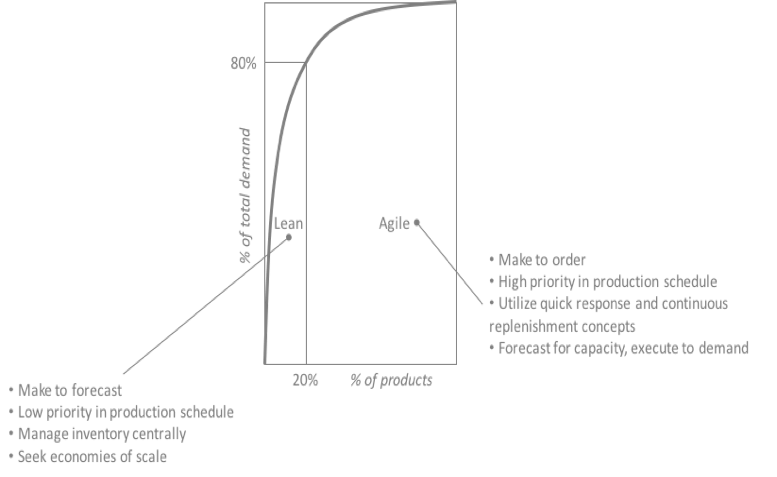 Some time ago "Lean" was the absolute keyword of logistics and every manager proudly showed his Six Sigma Belt, now a rethinking to agile logistics is taking place (Valerod 2013, p. 12). According to modern studies, Lean works very well with predictable value chains. However, as soon as flexibility and high uncertainty are present in the supply chain, agile principles are recommended. With agile methods, software developers can react much faster to changes. According to the credo: Take change as a given and react to it!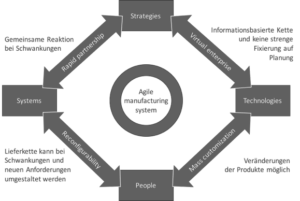 But what exactly is such agile logistics? Kumar et al. (2011, p. 6410) provide a manifesto to describe. It shows the relationship between people, systems, strategies and technology. This model provides an initial approach to agile logistics and will be closely explored later in the project. Thus, the successful use of Scrum and Co. promotes communication in the supply chain and places greater demands on transparency for the clients. It calls for a certain degree of trust and common values.
Agile Supply Chain
Let's put ourselves mentally on a large construction site: there are many different actors here (suppliers, forwarders, construction managers, specialist planners, technicians, etc.). All processes are not exactly planned, but we as a service provider have the task of obtaining all goods at the right time and reacting immediately to spontaneous changes in the construction. The requirements are transmitted to us by different construction managers and are often not 100% compatible with each other.
One solution seems to be the principles of the Agile Supply Chain in the figure above. However, the question arises as to how I actually implement these in my logistics. One answer could be the new possibilities of Logistics 4.0.
Logistics 4.0 and the Agile Supply Chain?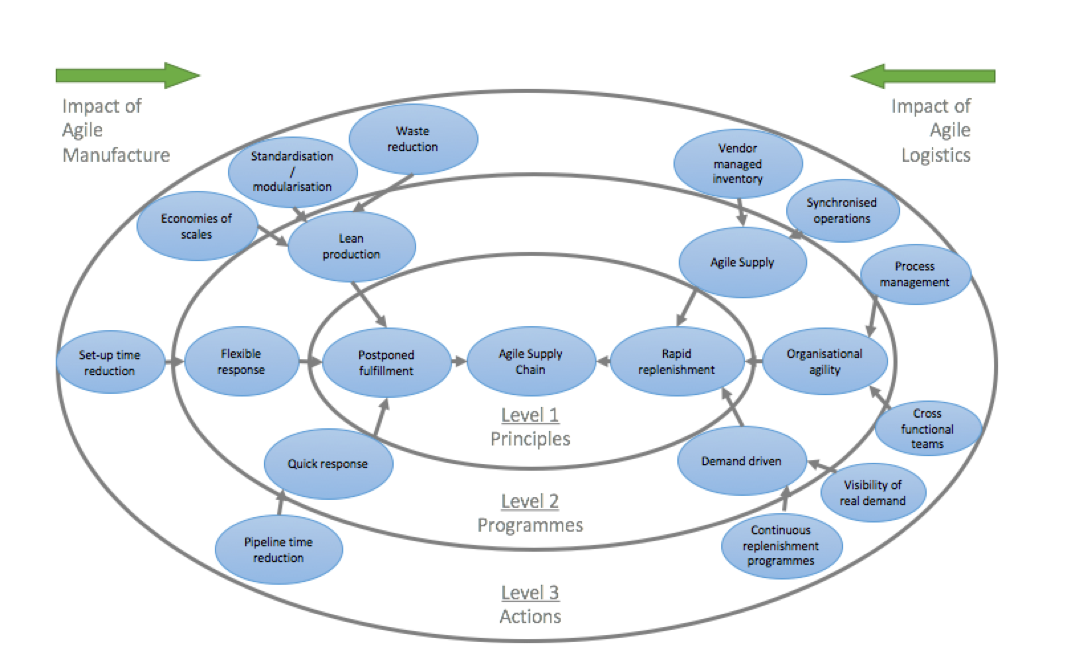 Logistics 4.0 is first and foremost a process revolution in industry. Highly flexible and acting units coordinate with each other in accordance with the principle of self-organization. According to kaufmann's illustration (2013, p. 26), this small model already shows significant added value for logistics. With new business models and technologies, logistics will offer much more complex new opportunities through the overarching Industry 4.0.
If we combine the agile logistics approach and the possibilities, the individual members of the supply chain must now work more closely and better together. A common response is therefore important. In the first interviews it became apparent that Kotler et al. (2010) with their framework. Common values (agility) and goals are now often above the price, and common values and goals are more important than treaty design for effective cooperation.
Conversion strategy for agile logistics
A survey was conducted on the magazine DVZ and this showed that the logistics managers surveyed expect higher dynamics. 75% of respondents expect that digital transformation can bring greater agility and 70% are already starting to design the digital supply chain, while 48% admit that there is currently insufficient technological support.
Four key technologies have been defined for the solution. In the first place are supply chain ERP solutions, which lead to an improvement of data collection and follow the better use of big data solutions. These could be used to use simulation tools that increase predictability. Cloud solutions are also mentioned.
Genderhinweis: Ich habe zur leichteren Lesbarkeit die männliche Form verwendet. Sofern keine explizite Unterscheidung getroffen wird, sind daher stets sowohl Frauen, Diverse als auch Männer sowie Menschen jeder Herkunft und Nation gemeint.
Lesen Sie mehr dazu.
Falls es noch Fragen gibt, können Sie mich gerne anrufen. Hierzu einfach im Buchungssystem nach einen freien Termin schauen. Ich nehme mir jeden Monat einige Stunden Zeit um mit Lesern zu interagieren.
Helfen Sie meinem Blog, vernetzen Sie sich oder arbeiten Sie mit mir
Sie haben eigene, interessante Gedanken rund um die Themenwelt des Blogs und möchten diese in einem Gastartikel auf meinem Blog teilen? – Aber gerne! Sie können dadurch Kunden und Fachkräfte ansprechen.



Ich suche aktuell außerdem Werbepartner für Bannerwerbung für meinen Blog. Sollte es für Sie spannend sein Fachkräfte oder Kunden auf Ihre Seite zu leiten, dann bekommen Sie mehr Informationen hier.
Vernetzen Sie sich in jedem Fall auf
Xing
oder
LinkedIn
oder kontaktieren Sie mich direkt für einen Austausch, wenn Sie gleich mit mir ins Gespräch kommen wollen. Werfen Sie auch einen Blick in meine
Buchvorschläge zur Digitalisierung
, vielleicht wollen Sie mir auch ein Buch empfehlen?
Ich arbeite gerne mit Unternehmen zusammen. Sie können mich ebenfalls gerne bezüglich folgender Punkte anfragen:
Verwendete Quellen anzeigen
Kaufmann, T. (2015). Business models in Industry 4.0 and the Internet of Things: The path from entitlement to reality. Berlin: Springer Vieweg.
Kumar, V., Mishra, N., Chan, F. T. S., & Verma, A. (2011). Managing Warehousing in an Agile Supply Chain Environment: an F-AIS Algorithm Based Approach. International Journal of Production Research, 49(21), 6407-6426. http://doi.org/10.1080/00207543.2010.528057
Kotler, P., Kartajaya, H., & Setiawan, I. (2010). Marketing 3.0: The new dimension of marketing: From customer to human. Frankfurt am Main: Campus Verlag.
Valerod. Chapter 7 The agile supply chain Content. Retrieved from http://de.slideshare.net/valerod2/7-agile-supply-chain-23750309