The digital transformation is changing. It also changes companies. These changes require companies to adapt agilely to the new realities in order not to be left behind. For example, the research project "the agile company" sees the structural transformation from companies to agile and evolutionary structures as an approach to managing this digital transformation. In order to shed more light on this topic, 6 managers met in Nuremberg on 22 September 2016 – 6 managers to enter into an open dialogue for 5 hours and to explain the question: "How to make a company sustainable, agile and evolutionary?" in an open dialogue.
PROCESS AND PARTICIPANTS
After each participant presented their interpretation of agile and evolutionary structures in companies in the first roundtable, the participants were shown an abstract model of a prototypical company and a summary of the most important Statements of the 1st Roundtable On the basis of this model and the statements of the last roundtable, a model for an "agile and evolutionary" company was to be built. The aim of this model is that it could be applied in practice. Step by step, each factor of influence on companies was tested in the roundtable and a first model was formed in the last part.

The 2 cultures in companies
Companies often have tasks with different requirements: highly creative on the one hand and standard processes that need to be executed on the other.
On the employee side, the participants of the Roundtable find a workforce that "just wants to do their job" and, in contrast, "agile employees" who want to realize themselves through the company. Per department, the participants agree, there are very often these 2 groups in different distributions. Both groups almost do not "talk" to each other and often work side by side in "2 Worlds". In order to handle these 2 worlds, 3 approaches of the participants were presented.
Many have been doing the same job for 10 years. They do it well and they want to carry on like this for 10 years.
Approach 1: BiModal World
This approach provides for a radical division of the company. On the one hand, there are "slow areas" with "standard topics" such as financial processes and rigid structures, and on the other hand, an innovative world with highly creative topics for the future. However, participants rated this approach as ineffective, especially in smaller companies, as a "2-class enterprise" can be created and envy is pre-programmed."
Successful pilot projects initiate change and this is tackled by employees who are afraid of change.
Approach 2: Agile bodies
In order to create an "agile world" in the company, one of the participants presented an approach for an agile board. The figure shows this with the example of HR. Every week on Tuesday, interested participants meet with the board and HR to fill the backlog with HR measures as well as prioritization. Tasks and actions are then distributed. Participation is open and voluntary for each employee. Alternatively, another participant offers employees to "pitch" with an idea to the board and ask for a budget or working time for an innovative idea. According to the participants, both approaches are agile and offer an "agile world". Communities of Practice were also presented by a participant as an approach with a similar effect.
Depending on the current relevance of the topic, a panel is more or less staffed. In this way, the most important things in the company are always promoted.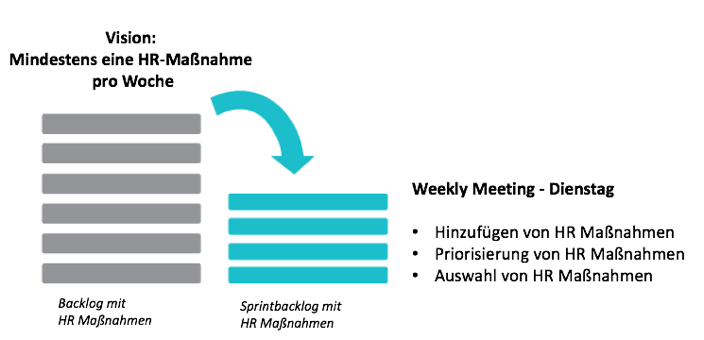 Approach 3: Start-ups in the company
A third approach, which is mainly used in corporations, is start-ups in companies. This means that an innovative idea is founded as a start-up outside the structure of the Group and integrated into the company at a certain size. This approach can be used to incentivise highly creative and agile employees. This approach was analysed and questioned by the participants in the open dialogue for a very long time. It has been found that these startups often lose all kind of agility after integration into the company. This triggered a dialogue on reasons for "non-scaling agility".
Why doesn't agility scale?
Afterwards, the participants gathered reasons in an open dialogue why agility cannot be scaled or difficult to scale. Human, structural and technological problems have been mentioned. Participants agreed that agility is not currently scaling. For this purpose, the above three reasons have clearly emerged. However, it was not clear whether agility is fundamentally unscaled or whether this is only currently not possible.
Small units are very agile and grow at high speed. From a certain size, however, everything becomes somehow unagil.
Human component for agile companies
According to the participants, the first blockers of agile and evolutionary structures in companies are type X people. The participants of the Roundtable observe the "phenomenon of fear of loss". Agility means that positions and managers lose their assigned power. This leads to uncertainty and fear. Also, in "agile areas", the participants notice that after 4-5 years, employees identify so strongly with a role and the title behind it that they try to "defend" this role. There is also talk of a kind of "attention to detail" to a task that arises over time. An important factor for agility is therefore to change employees and to reassign roles again and again. According to the participants, agile companies in particular need higher-quality leadership than traditional organisations. Participants recommend creating incentives to be different. Bonuses are often paid when an employee follows the system closely. According to the participants, this leads to an equalization.
Just because I live in 10-year-old processes, I don't have to follow them!
Structural component for evolutionary enterprises
The participants see another blocker of agility in the structure of companies. With the introduction of rigid line organization, agile working methods are hardly possible. The resulting formation of "silos" is also in stark contrast to the agile mindset. All participants agree that this structure is the main reason for the lack of agility in their companies. An IT service provider must also adapt to and comply with the guidelines of the corporations. On the other hand, the managers of the corporations confirmed that agility is constrained here by the legislator. According to the participants, a DAX group in Germany can only be as agile as the law allows. This is also confirmed by the service provider from the data center sector, which has to adhere to strict security and service level agreements. These often limit the use of agile methods.
Technological component for digital companies
Another aspect is technology in companies. According to the participants, the "digitalization" of companies is often limited by guidelines and excessive compliance.
We need to make data protection and security liveable!
However, participants limit that a pure tool does not "make agile" but only helps to promote agility. Skype, Cloud, Slack uvw. are tools that promote flexibility, virtual teams, and agility. Especially trends like home office or "work when you want" are not possible without these technologies. The approach of start-ups in companies can also be promoted through digital transformation.
It has never been easier than today to quickly and cheaply try out a proof of concept of a digital business model.
Solution approach: The agile, evolutionary and digital enterprise
Overall, it is clear that all participants agree that companies need "agile and evolutionary" structures to meet the challenges of modern times and to ensure the future viability of the organization. Three approaches were presented that can enable agility. The aim is now to create a model that the participants believe can be implemented in practice. The model is intended to develop a company organically and naturally. For this reason, a metaphor from physics was used for modelling. The aim is therefore to gradually change a company with an already existing classic line organization. Thus, the participants do not agree to change through individual pilot projects, but in an organically growing process to change the company evenly in all places.
Departments are atoms
Participants build on the approach of "start-ups in companies". This is how a task force of 3-5 employees is formed, who ask a board for the necessary funds for an idea. The aim of this idea is to support the vision of the company. This task force then grows into a startup that grows rapidly and rapidly. With some growth, the department also needs support from other areas such as HR or financial accounting. According to the participants, this happens from as well as 9 people. In addition, the first "neutrons" are formed from here, namely employees who "just want to do a job". The participants agree that such a culture will always exist in companies and therefore here the "2. culture" can also exist. This approach has already been successfully tested by some of the participants. However, they complain that agility subsequently diminishes noticeably and resort to another metaphor of physics: Atoms with too many elements in the nucleus blast themselves into smaller atoms. So they split up too large departments before they take on the size of a division and form new startups or task forces.
Evolutionary companies are molecules
Now that the first paragraph explains the approach of taskforces, startups, and departments, this consideration is to be brought into context. The participants first realized that the board of such an agile and evolutionary company must set a vision. The board's job is then to approve each task force and support the employees.
The individual startups and departments build up like a chain directly around the vision of the company and fragment themselves again into new startups at a certain size. Some of the departments also cooperate with central services such as HR or financial accounting. In the central services, especially according to the participants, the established 2nd culture should also exist, because the central services are constant and not as prone to change as the individual departments.
Communities of Practice
This approach is supported by communities of practice, which take place between the individual startups and departments. According to the participants, this refers to a practical community of people who are informally connected and face similar tasks. In this way, knowledge and networking can be created.
Customer feedback as a basis for decision-making
According to the participants, the decisions in these evolutionary and digital companies should not be made by managers or teams, but by customers. Every "atom" in the company has direct access to the customer and can quickly test prototypes and guarantee real customer benefits. Decisions are made on the basis of customer workshops or surveys and not by central committees.
If the customer wants something and we have been able to determine this through a workshop or a survey, then there is no need for a decision by the management.
Step by step into the evolutionary company
According to the participants, this model can be established in classic companies or even already exists in approaches. In this way, no rapid changes are made, but the first task forces are formed, which gradually develop into startups. Subsequently, other departments will follow along and support the evolutionary structures. This means that the classical departments are gradually dissolving. According to the participants, the change takes place slowly and step by step.
Limitation
Of course, the model is not yet fully mature and needs further dialogue in the 3rd Roundtable. It also requires a thorough description of the exact implementation and a precise analysis of the feasibility. The next roundtable will also focus on leadership and culture within the model. The comparison with physics serves only as a metaphor to improve the clarity of the model and is in no way a complete representation of current research in physics.
Next steps for the 3rd Roundtable
Overall, the model is a first very good approach by participants to agile and evolutionary structures in companies and will be further evaluated and improved iteratively in the next roundtable. The realistic and gradual feasibility of the concept in current companies is particularly positive, according to the participants.
Genderhinweis: Ich habe zur leichteren Lesbarkeit die männliche Form verwendet. Sofern keine explizite Unterscheidung getroffen wird, sind daher stets sowohl Frauen, Diverse als auch Männer sowie Menschen jeder Herkunft und Nation gemeint.
Lesen Sie mehr dazu.
Falls es noch Fragen gibt, können Sie mich gerne anrufen. Hierzu einfach im Buchungssystem nach einen freien Termin schauen. Ich nehme mir jeden Monat einige Stunden Zeit um mit Lesern zu interagieren.
Helfen Sie meinem Blog, vernetzen Sie sich oder arbeiten Sie mit mir
Sie haben eigene, interessante Gedanken rund um die Themenwelt des Blogs und möchten diese in einem Gastartikel auf meinem Blog teilen? – Aber gerne! Sie können dadurch Kunden und Fachkräfte ansprechen.



Ich suche aktuell außerdem Werbepartner für Bannerwerbung für meinen Blog. Sollte es für Sie spannend sein Fachkräfte oder Kunden auf Ihre Seite zu leiten, dann bekommen Sie mehr Informationen hier.
Vernetzen Sie sich in jedem Fall auf
Xing
oder
LinkedIn
oder kontaktieren Sie mich direkt für einen Austausch, wenn Sie gleich mit mir ins Gespräch kommen wollen. Werfen Sie auch einen Blick in meine
Buchvorschläge zur Digitalisierung
, vielleicht wollen Sie mir auch ein Buch empfehlen?
Ich arbeite gerne mit Unternehmen zusammen. Sie können mich ebenfalls gerne bezüglich folgender Punkte anfragen: